Double Flange Butterfly Valve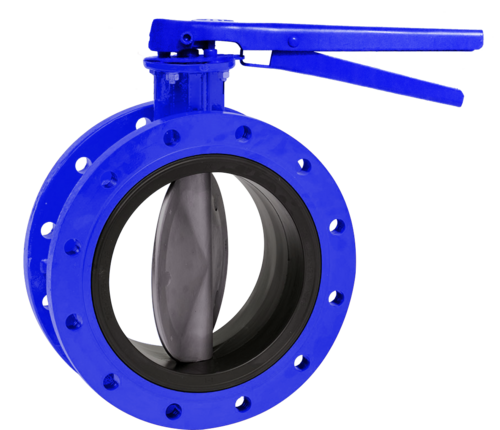 Double Flange Butterfly Valve
Product Description
A double flange butterfly valve is a kind of modern valve used to control the progression of liquids, commonly in enormous lines or pipelines. It's planned with a circle that turns inside the valve body to control the stream by either permitting or impeding the entry of liquid. The "double flange" alludes to the valve having flanges on the two finishes, which makes it simpler to introduce and interface inside a pipeline.
Here are a few critical elements and qualities of a double flange butterfly valve:
1. Flange Configuration: As referenced, these valves have flanges on the two finishes, permitting them to be blasted straightforwardly to the pipeline. This plan works with simple establishment and support.
2. Butterfly Circle: The focal part of the valve is the plate, which is situated at a right point to the heading of stream. At the point when the circle is lined up with the stream course, it takes into account greatest liquid stream, and when it's opposite, it confines stream or stop totally.
3. Activation Components: Butterfly valves can be worked physically, pneumatically (utilizing gaseous tension), or electrically (utilizing engines). This makes them flexible and reasonable for different applications.
4. Quarter-Turn Activity: These valves are frequently alluded to as quarter-turn valves on the grounds that the circle pivots a quarter turn (90 degrees) to go from completely open to completely shut or the other way around.
5. Financially savvy: Butterfly valves are by and large more practical than some other valve types, pursuing them a famous decision for applications where exact choking isn't needed.
6. Low Strain Drop: Because of their smoothed out plan, butterfly valves as a rule have a lower pressure drop across the valve when contrasted with different sorts like entryway valves.
7. Huge Breadth Applications: Double flange butterfly valves are generally utilized in applications that include enormous line measurements, like water circulation, sewage treatment, and different modern cycles.
8. Materials and Fixing: These valves can be produced using different materials, including cast iron, treated steel, from there, the sky is the limit. The fixing system can be elastomeric (utilizing elastic or comparable materials) or metal-to-metal, contingent upon the application's necessities.
9. Strong Seating: Butterfly valves frequently have tough seating made of materials like elastic or PTFE (polytetrafluoroethylene), which makes a tight seal when the valve is shut, forestalling spillage.
Double flange butterfly valves are usually found in enterprises like water treatment, wastewater the executives, synthetic handling, power age, and that's only the tip of the iceberg. Their straightforwardness, cost-viability, and simplicity of establishment go with them a well known decision for different liquid control applications.
Double Flange Butterfly Valve Specifications:
1. Power: Manual
2. Material: CI, CS, SS304, SS316
3. End Connection: Flanged
4. Operator: Lever, Gear
5. Size: 1"--48" Inch