Knife Edge Gate Valve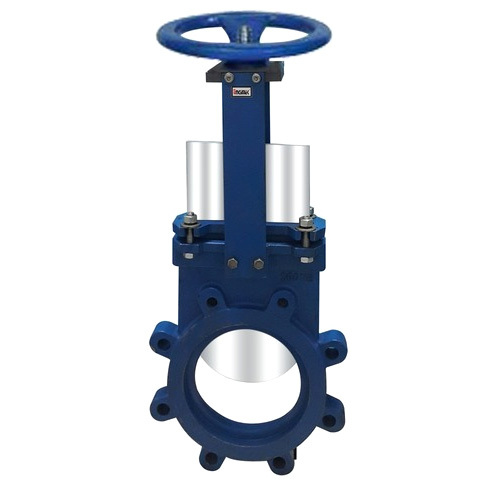 Knife Edge Gate Valve
Product Description
Blade Edge Door Valve is an inline type plumbing fitting that can be utilized modern stream frameworks to control the pace of liquid moving through the pipelines. It is made by utilizing top-grade alloyed steel and cast iron that give high sturdiness and solidarity to oppose outrageous working circumstances. It comes in different adjustable sizes according to the request set by our clients. This item has flanged plan to introduce it with the assistance of mechanical latches.
Knife Edge Gate Valve Specifications:
1. Frequency: 50 Hz
2. Surface Treatment: Paint Coated
3. Color: Blue
4. Body Material: Cast iron
FAQ:
1. What is a blade edge entryway valve?
Ans: A blade edge door valve is a sort of modern valve intended for applications where a tight turned down and segregation of the liquid stream is required. It has a sharp-edged door that slices through the streaming medium to accomplish a total conclusion.
2. Where are blade edge entryway valves utilized?
Ans: Blade edge entryway valves are generally utilized in enterprises like mash and paper, wastewater treatment, mining, power age, compound handling, and that's only the tip of the iceberg. They are appropriate for taking care of liquids with suspended solids, slurries, thick media, and destructive materials.
3. How does a blade edge door valve work?
Ans: A blade edge door valve works by moving a level entryway with a honed edge opposite to the heading of the stream. At the point when the valve is opened, the door is pulled up, permitting liquid to stream. At the point when shut, the door is brought down, slicing through the stream to give a tight seal.
4. What are the benefits of utilizing blade edge door valves?
Ans: A few benefits include:
Tight shut-off: The blade edge configuration guarantees insignificant spillage when the valve is shut.
Appropriate for solids: They can deal with liquids with suspended solids, slurries, and thick materials.
Low strain drop: The smoothed out entryway configuration decreases pressure drop across the valve.
Consumption obstruction: They can be built from erosion safe materials for requesting applications.
5. What are the impediments of blade edge entryway valves?
Ans: A couple of impediments are:
Not so much for high strain: They probably won't be appropriate for incredibly high-pressure applications.
Restricted choking: Blade edge door valves are better for on/off applications as opposed to exact choking.
Chance of door harm: Particles in the liquid can cause entryway wear after some time.
6. Are blade edge entryway valves unidirectional or bidirectional?
Ans: Blade edge entryway valves can be intended to be either unidirectional (stream in one course) or bidirectional (stream in the two headings), contingent upon the application and plan.
7. How would you keep a blade edge door valve?
Ans: Customary support incorporates examining the door and seat for wear, checking for spills, and guaranteeing the actuator or handwheel is working appropriately. Flushing the valve and greasing up parts may likewise be fundamental.
8. Will cut edge door valves deal with grating media?
Ans: Indeed, blade edge door valves are reasonable for taking care of grating media, as the plan permits the entryway to slice through solids and keep a tight seal.
9. What sizes are accessible for blade edge door valves?
Ans: Blade edge entryway valves come in different sizes, going from a couple creeps to bigger sizes, contingent upon the maker and the particular application prerequisites.
10. Will cut edge entryway valves be robotized?
Ans: Indeed, blade edge door valves can be outfitted with different kinds of actuators, for example, pneumatic, pressure driven, or electric, to empower remote and computerized activity.