Pneumatic Double Flange Butterfly Valve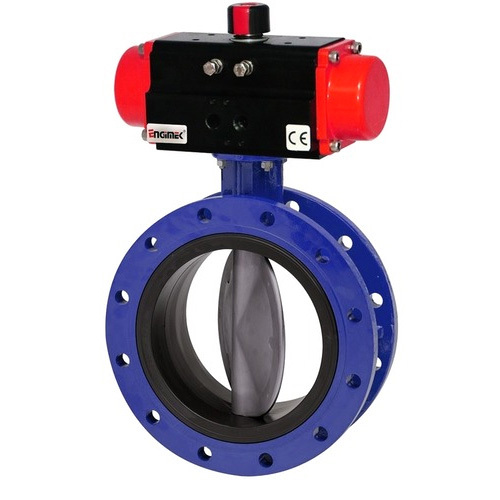 Pneumatic Double Flange Butterfly Valve
Product Description
Our organization offers superior execution Pneumatic Double Flange Butterfly Valve which is particularly intended for the low to medium strain frameworks. The circumferential fringe of this gadget is given double flanges to interface it with the pipelines with the aides of mechanical latches without any problem. The material utilized for the creation gives more prominent strength and solidness which brings about longer help life. Get this substantial parts from us according to your prerequisites at a sensible cost range.
Pneumatic Double Flange Butterfly Valve Particulars:
1. Power: Pneumatic
2. Material: CI, CS, SS304, SS316
3. End Association: Flanged
4. Administrator: Pneumatic
5. Size: 1"- - 48" Inch
FAQ:
Q1: What is a Pneumatic Double Flange Butterfly Valve?
Ans: A pneumatic double flange butterfly valve is a sort of modern valve utilized for directing or disconnecting the progression of fluids or gases ready to go. It comprises of a circle molded conclusion component (the "butterfly") that turns on a focal pivot to control the stream. The "double flange" alludes to the valve's plan, which permits it to be introduced between two flanges ready to go.
Q2: How does a Pneumatic Double Flange Butterfly Valve work?
Ans: When the valve is open, the plate is turned opposite to the stream course, taking into account greatest stream. At the point when the valve is shut, the plate is turned lined up with the stream course, closing off the stream. Pneumatic actuators are utilized to control the valve's situation - these actuators utilize compacted air to open or close the valve.
Q3: What are the upsides of utilizing a Pneumatic Double Flange Butterfly Valve?
Ans: The following are not many benefits of this valve:
a. Speedy and simple activity because of the quarter-turn plan.
b. Smaller and lightweight development contrasted with other valve types.
c. Great stream control capacities.
d. Reasonable for many applications, including high-tension and high-temperature conditions.
e. Decreased upkeep necessities because of less moving parts.
Q4: What are the regular uses of Pneumatic Double Flange Butterfly Valves?
Ans: These valves are generally utilized in enterprises, for example, water treatment, air conditioning frameworks, power plants, substance handling, and oil and gas. They are reasonable for both on/off and choking applications where stream control is required.
Q5: What sizes are Pneumatic Double Flange Butterfly Valves accessible ready?
Ans: These valves are accessible in various sizes, going from a couple creeps to a few feet in width, contingent upon the particular application and pipeline necessities.
Q6: How are Pneumatic Double Flange Butterfly Valves worked?
Ans: These valves are worked utilizing pneumatic actuators, which utilize compacted air to control the valve's opening and shutting. The actuators can be somewhat controlled through a control framework.
Q7: What materials are Pneumatic Double Flange Butterfly Valves produced using?
Ans: Valve bodies and plates are commonly produced using materials, for example, cast iron, bendable iron, carbon steel, treated steel, or even fascinating compounds for destructive or high-temperature conditions. The decision of material relies upon the application's prerequisites.
Q8: Might these valves at any point be robotized and incorporated into control frameworks?
Ans: Indeed, pneumatic double flange butterfly valves can be handily computerized by incorporating them into control frameworks. This considers distant activity and exact stream control in light of cycle necessities.
Q9: What support is expected for these valves?
Ans: Normal upkeep incorporates examining the valve for mileage, guaranteeing the actuator works appropriately, and tending to any holes. Oil of moving parts and cleaning garbage from the valve body are additionally significant for life span.
Q10: How would I choose the right Pneumatic Double Flange Butterfly Valve for my application?
Ans: Consider factors, for example, the liquid kind, tension and temperature necessities, pipe size, stream rate, and a particular industry principles that should be met. Talking with valve producers or specialists can assist with guaranteeing you pick the right valve for your requirements.